June 26th, 2022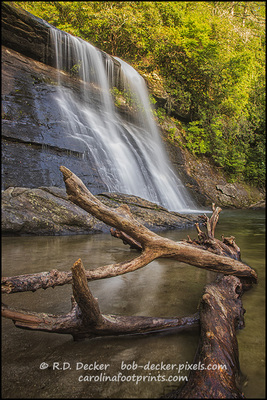 The Trip
I paid a visit to a friend that recently bought a business and home in Jackson County, North Carolina. Specifically, she settled in Glenville, a small unincorporated mountain community. Other, better know towns in the county include Cashiers and Highlands. If you're familiar with this part of Western NC you probably recognize that the area is well known for it's waterfalls. As such, in between socializing with my friend or just being a lazy bum, I set out to photograph a few of the area's falls. I also managed to work in a little mountain stream fishing during the "harsh light" periods of the day.

The Waterfalls
I wasn't there long enough to visit all of the fall I'd have liked to, but did manage to visit a few. The tallest of those that I visited was probably "High Falls" just outside of Glenville. While a short hike down to the falls (emphasis on DOWN), it was also the most strenuous trek. The upper trailhead is found across the road from Lake Glen and is a short 0.6 mile walk. Expect steep stairs of native rock on the way down and back up. The waterfall is well worth the effort. After returning home I discovered there is another route to this falls. An easier, flatter but longer hike. Find the trailhead near the junction of NC 107 and Shoal Creek Mountain Road. On my next visit I plan to give that route a go. It has the benefit of there being a second waterfall to be seen along the way!

"Silver Run Falls" is one of the easiest to access. It is a short 200 or so feet, easy, flat walk to this pretty little falls. This is a favorite swimming hole for locals. If you want to avoid crowds visit early in the morning or in the evening. The falls drops about 25 or 30 feet into a sandy bottom pool before continuing on as a typical mountain stream.

I made the drive along US 64 to visit "Bridal Veil Falls." This popular waterfall is literally located next to the road. There is no hiking or scrambling involved. There is a short loop of road the runs under and behind this waterfall. That loop was closed when I visited. Due to the roadway I found this falls a bit difficult to get an acceptable image of.

A bit farther down the road is the parking area for "Dry Falls." There is a use fee of $3.00 when visiting this lovely waterfall. Bring correct change. There is a QR code for paying the fee online at the site but cell coverage there is, at best, sketchy. This falls has an accessible viewing platform for those that might not be able to make the hike. The hike its self leads down some stairs, with some nice flat lengths, finally passing behind the falls before ending.

I did visit "Bust Your Butt Falls" but it was late in the afternoon and the harsh light made it difficult to get an acceptable photo. Perhaps on my next visit my timing will be better. This waterfall, as well as some others, are right along the road which follows the "Cullasaja River." To find the various waterfalls along US 64 look for the one or two car pull-offs. Be prepared to do a bit of scrambling over large boulders to get a close look.

I also came upon a couple small waterfalls or cascades which, as far as I know, are unnamed. Sometimes these little mini-waterfalls are quite picturesque. One of them is located on my friend's property. The other little falls was a few hundred yards up "Shoal Creek Mountain Road" where the creek crosses under the road.

That's my list of falls visited on this trip. There are many more waterfalls to be seen in Jackson County. So many I may end up being a pest of a guess to my friends new home! Other area waterfalls and cascades include, Cullasaja Falls (Upper and Lower), Glen Falls, Sliding Rock, Whitewater Falls, Turtleback Falls, Rainbow Falls, Moore Cove, Looking Glass Falls and Courthouse Falls. I'm sure I missed naming a few! Plus several unnamed falls I may be lucking enough to stumble upon!